Greetings!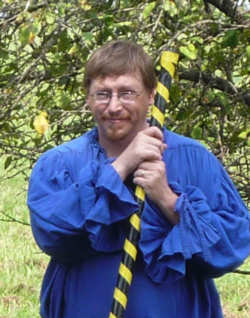 Lord Hroudland
We hope you enjoy your time with us in Youth Combat! Our mission is for our sport to be Safe, Fun and to interest our kids in all we do in the SCA, and hopefully to raise great adult fighters.
Fight well and with Honor! We hope you have fun!
Hroudland,
Deputy Earl Marshal for Youth Combat
Unto the East Kingdom does Jibril-al Dakhil, East Kingdom Earl Marshal, send greetings,
Pennsylvania Child Protective Act, Scene Two
After a productive conference call with the Society Seneschal and the Society Earl Marshal, I am confident that we will have written guidance in the next few days, for dissemination, that will allow for full participation by the East Kingdom in Pennsylvania in all activities under the Office of the Earl Marshal. I do not want to paraphrase or misquote anyone, but I will say that everyone can rest assured that this should not cause a disruption for more than a few more days and once we have the written guidance we can return to business as usual with direction of who must and how to comply with Pennsylvania law.
Ruling officially posted 1 July 2015
Pennsic and the Pennsylvania Child Protective Act
One of the first things I heard about upon taking this position in January 2015 was the change in Pennsylvania law. I was informed we would get guidance from the BoD. That has not happened to date.
In the event that legal guidance is not provided that indicates what, if any, provisions of SCA and East Kingdom laws needs to be changed to bring us in full compliance with Pennsylvania law is not given before July 1, 2015, I am left with no alternative but to suspend all activities under the office of the Earl Marshal of the East Kingdom that allows participation by anyone under the age of 18 in the state of Pennsylvania and to bar any East Kingdom marshal from participating, as a marshal, in the state of Pennsylvania where anyone under the age of 18 is allowed to participate in any marshal activities.
The sanctions faced for failure to comply with Pennsylvania law include civil and criminal prosecution. Anyone who supervises or comes into regular contact with persons under the age of 18 are subject to these sanctions. This affects all marshals as well as all chivalry. It is imperative that this issue be resolved immediately, considering that provisions of the law are already in effect.
Pennsic Issues
Furthermore, the current Pennsic Accord that seeks to subvert authority for field saftey from the Society Earl Marshal and place the Pennsic marshallate under control of the Deputy Mayor for Battlefield Activities is improper. The current accord violates the clear and long standing chain of command from SEM, to KEM, to DEM, etc. The Earl Marshals must continue to have free authority, subject to the rules of the Society and answerable to the Society Earl Marshal in all combat related activities and not to the Deputy Mayor for Battlefield Activities unless the BoD directs otherwise.
Youth Play and Combat
If the youths are old enough to be in any of the youth divisions and are conducting sword fighting at an SCA event - a cornerstone of which is sword fighting - then it needs to comply with the requirements of youth combat regardless of whether the weapons are constructed at home or commercially constructed. This includes proper armor, technique, safety and a youth marshal. The youth marshal shall then determine if the "nerf" sword complies with standards for the appropriate division before any contact between youths.
Ruling officially posted 30 June 2015
In service to the greatest Kingdom in the Knowne World, I remain
Jibril-al Dakhil, Earl Marshal
Update
EK Youth Combat Rules revised February 2015.
For Fighters
Youth Combat Information and Forms
Checklist for 6-9
Checklist for 10-13 and 14-17
Checklist for 16-17, Rattan Combat

The Order of Gawain

For Parents
For Marshals
Marshal's Information and Forms
Becoming a Marshal
Marshal's Checklist for Running Events
Marshal's Checklist for Running Practices
The Calendar
Fighting at Pennsic
Pennsic XLIV Information (for 2015) has now been posted.
Documents
All of the Documents and Forms related to and kept by the Youth Marshallate of the East Kingdom of the SCA.
Lord Tiberius answers that age-old question: What Forms Do I Need to participate or practice in, around or with Youth Combat.?
How To
Instructions and guides for constructing weapons and armor for use in the SCA Youth Combat program in accordance with East Kingdom rules and requirements.
Induction into the Order of Gawain
by Their Royal Majesties Griffith and Aikaterine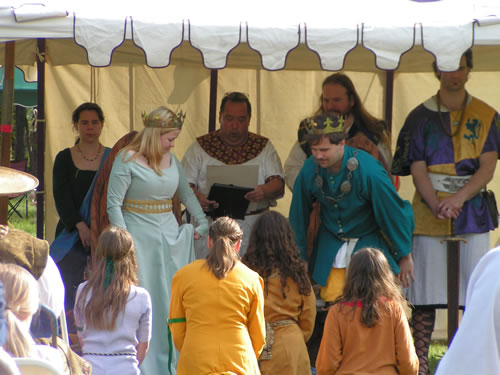 The Order of Gawain is an East Kingdom Order of Honor for Youth Martial Activity.