The Order of Gawain is the East Kingdom Order of Honor for Youth Martial Activity.
The Order of Gawain (established by Gryffith and Aikaterine, April 22, A.S. 41) may be awarded by the Crown to honor and recognize those young people, up to and including the age of seventeen, who have distinguished themselves by acts of valor, honor, chivalry, courtesy, and leadership within a youth martial activity.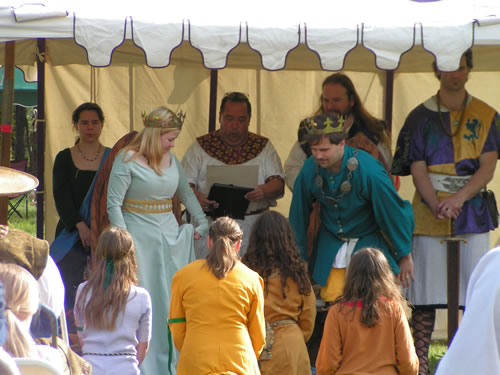 In making their decision, The Crown may, at Their discretion, request comment from the appropriate Marshalate regarding candidates for this award.
The recipient of this award is entitled to wear on the left arm a green garter charged with a gold mullet.
The Companions of this Order will be bound, insofar as they are able, to maintain and encourage the standards of the Order within the youth martial community.
Companions of the Order
05/12/2007 Christopher Serpentius
05/12/2007 Angus Caed Chathach
05/26/2007 Njall Randvesson
05/26/2007 Daigoro
05/26/2007 Daniel Bishop
05/26/2007 Ajax of Panthervale
05/26/2007 Galen Stout
05/26/2007 Rowan Gwinyth Daigon / Brooke Fowler
05/26/2007 Lillian Stanhope
05/26/2007 Franqueite du Grandchamp
06/23/2007 Wulfwyn aet Maeldun
07/14/2007 Dan of Barony Beyond the Mountain
07/21/2007 Peaches of Rusted Woodlands
11/17/2007 Duncan of Settmour Swamp
01/05/2008 Ella Kieransdottir
01/26/2008 Genoa Scherbatskaja
01/26/2008 Kamaitachi Taiko
01/26/2008 Logan Smith
01/26/2008 Thrace (of Stonemarche)
01/26/2008 Tetsunoskae (of Glenn Linn)
02/09/2008 Sophia von Eisental
02/09/2008 Valrick the Wanderer
03/29/2008 Benjamin Three Knives
05/10/2008 Berkhommer (of Barren Sands)
07/12/2008 Thereon Colosa
01/31/2009 Rowan of Dragon's Heorth
01/31/2009 Vincent of Dragon's Heorth
04/18/2009 Elizabeth Pleyledere
07/11/2009 Yul of Winding Waters
07/18/2009 Gunther of Bhakail
11/14/2009 Nicholas Poissonier
12/05/2009 Branson the Younger
05/29/2010 Kaleb of Endewearde
05/30/2010 Weehafoc of Panther Vale
07/10/2010 Matthew MacGyver
03/26/2011 Ivarr of House Silverkeep
04/02/2011 Nimrod of Dragon's Heorth
10/21/2012 Corwin of House Three Skulls 
07/13/2013 Brian le Wolfhunt 
07/29/2013 Kai of Owlsherst
11/02/2013 Christopher Michaelson
11/02/2013 Eric Michaelson
01/25/2014 Alexandra Krakkensdottir
01/25/2014 Basil Tagaris (aka. Ari Finanson, or Nick of Endewearde)
02/22/2014 Connor of Glen Linn 
02/22/2014 Rael of Glen Linn
04/19/2014 Clarice d'Allaines le Comte
05/10/2014 Marcus of Owlsherst
06/21/2014 Kara the Long Leg
06/24/2014 Tombo no Tanaka
09/14/2014 Birla the Cheerful
09/20/2014 Eamond the Red
09/20/2014 Connor Dragonsbane
09/20/2014 Zadia of Bergental
08/22/2015 Arnulf d' Saint Aubin
08/22/2015 Leon d' Saint Aubin
08/22/2015 Rodulf d' Saint Aubin
03/05/2016 Sarah Grace of Owlsherst 
03/12/2016 Aethelthryth Kenricing 
03/12/2016 Ulf the Dragon Slayer 
05/28/2016 Meagan De Hautville called Bean 
09/24/2016 Gavin Asgarson 
05/27/2017 Dove Galea 
12/02/2017 Adelia of Bergental 
01/20/2018 Brendan of Silver Rylle 
11/03/2018 Cody of Endeweard 
12/01/2018 Aeryn Fitzpatrick 
03/30/2019 Alaxandair Mórda mac Matha
03/30/2019 Constantine of Anglespur
03/30/2019 Kaelen Strongarme
03/30/2019 Leon Griffin
10/05/2019 Alexandar of the Black Dragon Company
01/25/2020 Jaimey of Ravensbridge
01/25/2020 Ainé inghean Culann
03/07/2020 Iddo Planchet
07/19/2020 Ráðúlfr Grímólfsson
05/16/2021 Wolfgang Ulrich