Resources for Youth Combat Fighters
We hope you enjoy your time with us in Youth Combat! Remember to fight with honor and courtesy to your opponents. So much of what we do depends on being safe with one another. Proper calibration, making weapons to-standard, and following the armor standards will help everyone participate in a safe and respectful way.
We've collected the following forms and lists to help you become the best fighter you can be.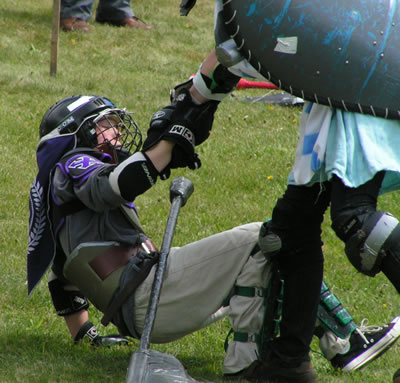 Courtesy is only one of the virtues.
EK Youth Combat Rules revised January 2019.
and EK Div 4 Youth Rattan revised November 2009.
Authorization Procedure
Youth Combat Authorization Form and Card.
Checklists for the Armor Bag
Checklist for 6-9
Checklist for 10-13 and 14-17
Checklist for 16-17, Rattan Combat

If you are interested in constructing your own helmet, you need to follow the
Helmet Construction Guidelines as well as the pertinent paragraphs in the EK Youth Combat Rules (above) and the EK Div 4 Youth Rattan (above)
Waivers
Waivers are here: Society Waivers Portal
Waivers are to be used for each practice or event in which a youth fighter participates. Waivers are not necessary if the youth fighter can show a blue membership card (this denotes that the youth fighter has a waiver on file with the Society).
The child waiver is normally used if parents are present.
If parent or guardian will not be present, the notarized form is required for participation. Please note, however, that parents/guardians MUST be present in order for a youth fighter to authorize for tourney and melee combat.
Still not sure? Lord Tiberius answers that age-old question: What Forms Do I Need to participate or practice in, around or with Youth Combat.?