For the Marshals
Marshals!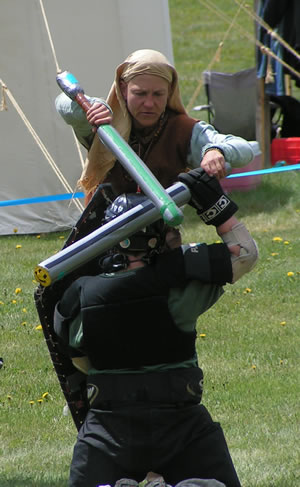 Be a marshal. Teach.
For many of the youth and their parents, you represent the first link they have with the East Kingdom and the Society. Be prepared to answer questions as a chatelaine and fix and build armor and weapons. Avoid sending a fighter away from the list with failed weapons or armor. Instead, try to help them fix their gear. Get them moving. Be a bridge between the modern middle ages and the world outside!
Forms
With new mailing address: Youth Combat Authorization Form and Card.
Please destroy older versions of the authorization form so that incorrect ones won't be used accidentally.
Authorization Procedure
Youth Combat Authorization Form and Card.
EKYC Marshallate Guidelines

Society Seneschal Memorandum
The rules of the East Kingdom require youth marshals to have a valid background check and supervise practices using a '2 deep' model. This means that practices are coached by two adults who are not related to one another. One of them must have completed the background check.
Marshals should also know what their charges will be reading and following:
EK Youth Combat Rules revised February 2015.
and EK Div 4 Youth Rattan revised November 2009.
We also have a handy checklist to help marshals stay organized. It includes items to prepare the list field, things to remember when checking equipment, and other necessaries for Youth Combat Marshals.
Marshal's Checklist for Events
Marshal's Checklist for Practices
For the time when a fighter/parent has constructed a helmet, here are the Helmet Construction Guidelines.

Other Resources
To learn about medieval armoring techniques, fighting, and fighter culture: The Armor Archive
For a foundation in a combat training regimen, try Bellatrix Fighting School
For another, more structured approach to combat instruction, try Novicious Training
Calendar
View the youth combat calendar. If you have a Google Mail account (GMail), you can add the EK Youth Combat calendar to your own calendar. Any changes made by Lord Tiberius will show in your calendar. It's a very handy tool.
For those not yet Marshals
We are always looking for more Youth Marshals. If you are interested, please read this information.
Join the Group
To find out more about becoming a marshal, or simply partake in the conversation, please join the Yahoo Group that we've set up for marshals: EK Youth Marshal Group.
Report Schedule
Youth Earl Marshal Reports Due to East Kingdom Earl Marshal
1 Mar, 1 Jul, 1 Sep, 1 Dec
Regional Youth Marshal Reports to Deputy Youth Earl Marshal /Youth Earl Marshal 15 Feb, 15 May, 15 Aug, 15 Nov
Marshals report to Regional Youth Marshals (MiTs should check-in with training marshals a week earlier)
7 Feb, 7 May, 7 Aug, 7 Nov
Online Youth Marshals Report Form.