Fonts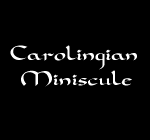 This website is using a font called Carolingia. You can see a sample to the right. The white lettering on the side is also in this font. If you have it installed on your computer, then all of the Headers are in this font. If not, then you have just a plain font.
For centuries, letter spacing and a standard style were not important to the scribes - beauty and appearance was. Making the page easy to read was not a big priority as it was assumed that people who had the ability to purchase a book or manuscript would be able to spend time to read and enjoy it. Speed took a back seat to beauty. Additionally, there was little to read so what was available was re-read often, again meaning that legibility was not a big issue.
Carolingian was developed for legibility in important documents. It was clear, correctly spaced, and easy for a moderately good reader to read. It was also good because it was the same across Europe and could be read by anyone. (Before, each region had its own quirks and differences. A scholar might be able to read his own script easily but the one from across the Continent was not so easy.) Many scholars credit the development of this script, and other such decrees from Charlemagne, for the spread of the Empire and the birth of the Caroligian Renaissance.
If you download the Carolingian font file and install it into your c:/windows/fonts/ folder, you should see the headers of this website in that font. Mac users can also use this font. Would one of them contact me with instructions on how to install it?
As an added benefit, you can use the font in Word, Excel or any other program.
Enjoy.